JESPY Clients Accomplish Many "Firsts" in 2022
Admin
December 20, 2022
/
5 mins read
JESPY House clients are constantly working towards living as independently as possible. Along the way, Clients accomplish many other goals. Some are competing in the Special Olympics Summer Games for the first time, travelling without family for the first time, living on their own for the first time, or even modeling in their very first fashion show. All of these activities help JESPY clients live a fulfilling and rewarding life. Keep reading to learn what milestones Tommy, Dan, Sharidan and Virginia made this past year.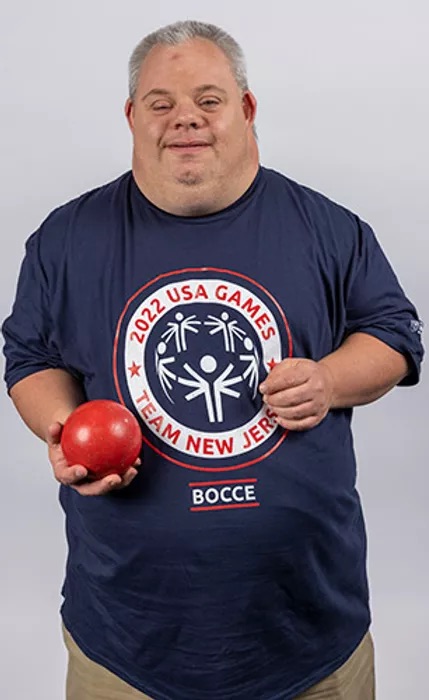 Meet Tommy, a first-time gold medal winner
Tommy, a JESPY client since 2016, is one of 139 clients who participate in JESPY's Athletics and Fitness program. JESPY House clients are adults with Intellectual and Developmental Disabilities who are passionate about living an independent life with supports in place if and when they are needed. Tommy is a fun, confident, friendly, and hardworking individual who likes to call himself "Big T."
This past summer, Tommy accomplished a major milestone: he competed in the Special Olympics Summer National Games for the very first time and came home with a gold medal in Bocce! He loves JESPY's Athletics program, participating in softball, track and field, soccer, flag football, bocce, and bowling – a sport he began playing at the age of 12 with his family.
Receiving a highly coveted invitation to compete in the Special Olympics is a huge achievement! Tommy practiced with JESPY coaches to prepare for the big game in Florida, and his friends and family cheered him on. Coach Michael Buerster shared, "Tommy's teamwork, communication, pride, and physical fitness have excelled while in the program." When Tommy isn't training, you can find him spending time with friends, visiting the zoo, or taking trips. We know Tommy's future includes many more milestone achievements, and we cannot wait to watch his success continue.
JESPY clients are people who want to realize their goals with hard work and supportive friends by their side. Tommy is just one of the more than 260 clients JESPY House serves. JESPY clients can live a life of independence, accomplish amazing goals, ask for help, teach you many things, and can make their own decisions. Yes, JESPY clients can do anything!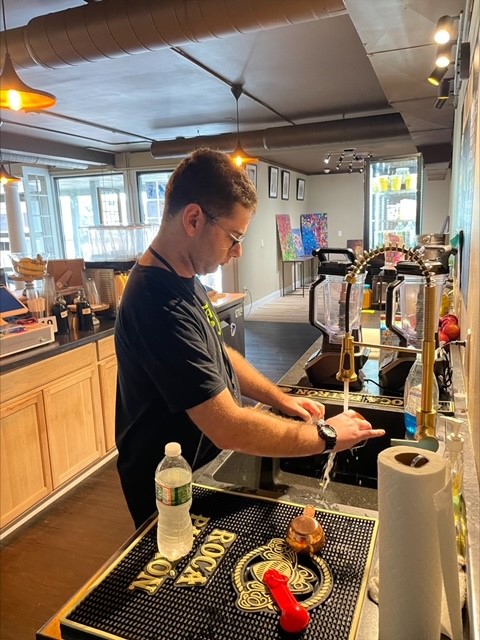 Meet Dan, a young adult living independently for the first time
Walking through downtown South Orange, you are likely to pass by at least one JESPY client on their way to meet a friend, join a JESPY program, grab a bite to eat, or head to work. JESPY House clients are adults with Intellectual and Developmental Disabilities (I/DD) who are passionate about living an independent life with supports in place if and when they need them. One of those people you pass by might be Dan, a young adult who is one of 260 clients who participate in JESPY's whole-life programs and services.
One word that describes Dan best is perseverance. Dan's transition to independent life at JESPY in September 2021 was his very first time moving away from his family home. For anyone, moving into their own space is a rite of passage, even more so for adults with I/DD, a true milestone. Dan and his friend Matt both joined JESPY's residential program at the same time and have one another to lean on, in addition to their case manager Desi, as they experience many firsts of living on their own like grocery shopping and staying within a budget. Dan had already begun forming friendships and practicing skill sets since he had joined the Engagement & Enrichment program one year earlier in January 2020.
Dan initially struggled to self-advocate. JESPY's Work Readiness and Employment Engagement (WREE) team met with Dan to find a job. However, Dan faced challenges when it came to communicating with employers. Together, Dan, Desi, and his job coach Brian built upon his communication skills so Dan could advocate for himself no matter the situation. Dan now expresses his thoughts and feelings as they arise and is excited each day he goes to work at a local coffee shop – a job that Dan has been thriving in for months. Dan, like many clients, never gave up. He knew he could find the right employment match to aid his new independent lifestyle. In Dan's own words he is, "exploring adulthood," with great success.
Dan, along with Matt, has made great friends at JESPY, discovered the cultural richness of our community, and is even looking forward to his very first JESPY out-of-state trip as an independent adult this spring.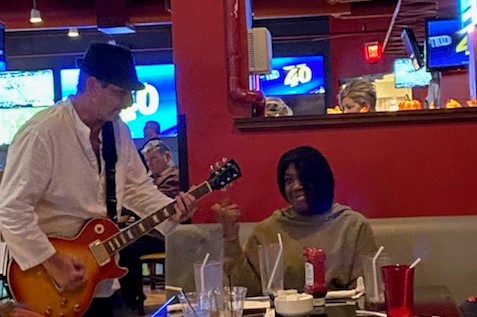 Meet Sharidan, a young adult who went on her first solo trip with JESPY
If you do not know Sharidan, you should meet her. She has been a JESPY House client since 2018 developing daily living and critical thinking skills and exploring creative outlets as part of the Day Program and Engagement & Enrichment Program. Sharidan is bubbly, pleasant, and always has a smile on her face.
Sharidan went on a JESPY-supervised overnight trip for the first time ever to "Spook-tacular" Salem, Massachusetts. This marked Sharidan's first independent trip without family present. Sharidan was filled with sheer excitement, not a shred of fear or nerves, as she was about to depart for a milestone journey.
Salem was decorated for Halloween, which was "a little scary but so much fun," according to Sharidan. The group explored the Salem Witch Museum, viewed a model of Frankenstein, and some wonderful places to eat – a guitarist even serenaded Sharidan at dinner. However, Sharidan's favorite meal of the trip was the eggs she had for breakfast – they were the best!
Sharidan eagerly told her dad what a great time she had and how nice and helpful the staff was. She can't wait for more overnight trips with her fun friends at JESPY. Sharidan proudly wears her souvenir hat to remember her first independent trip!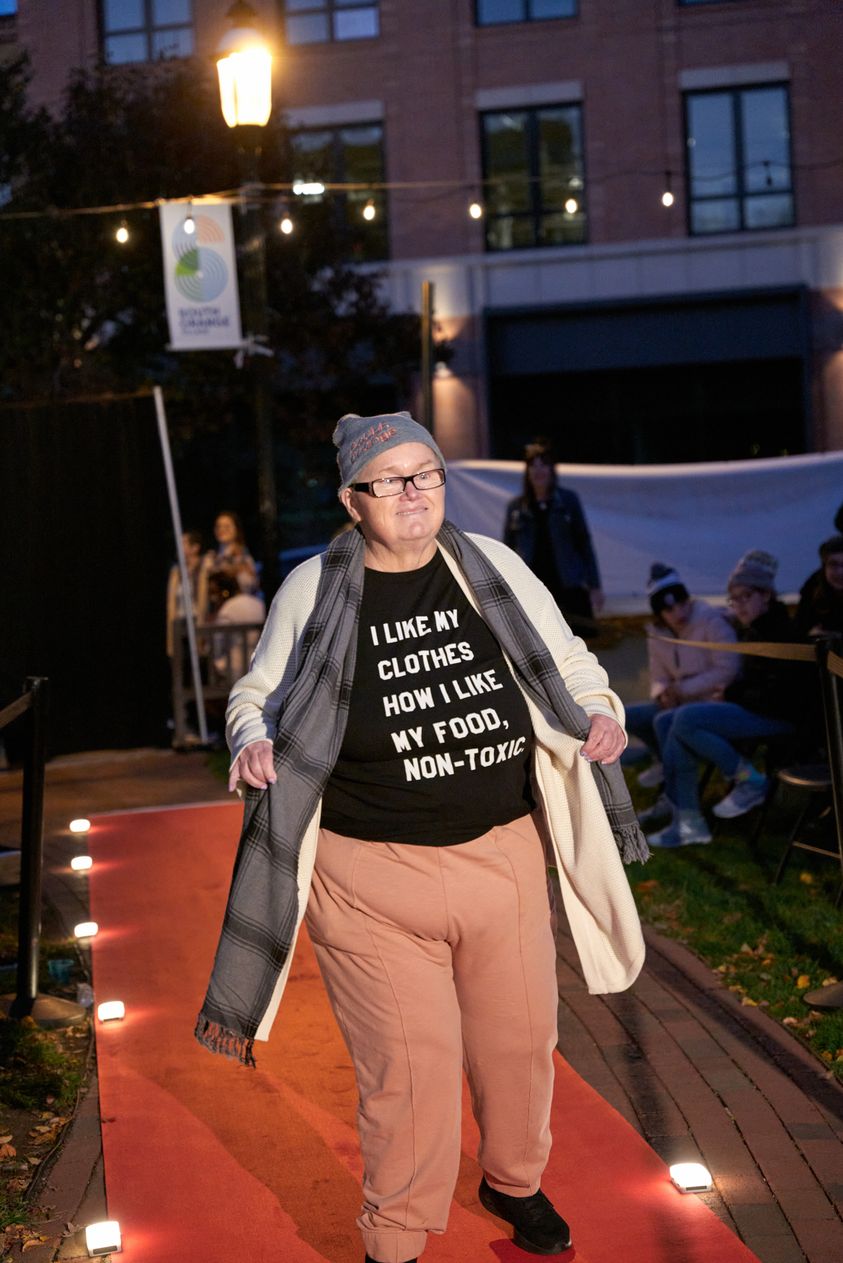 Meet Virginia, a client since 1999 accomplishes yet another milestone
"My name is Virginia and I have been a JESPY client since 1999. I am in the Day Program where I learn daily living skills, I am in the Engagement & Enrichment program where I use my artistic talents and go on trips, I am part of the Athletics and Fitness program where I work on my overall health, and I live in JESPY's Aging in Place house. I try to be a good person and sometimes good things happen to good people."
This past October, Virginia was one of ten lucky JESPY clients, adults with Intellectual and Developmental Disabilities, who participated in South Orange Downtown's Downtown on Display Fashion Show featuring clothes and accessories from Sadie's Shop, a local and ethically sourced boutique that is a great ally of JESPY. Although Virginia has accomplished many firsts throughout her 23-year history at JESPY, Virginia was able to check off another first this year: modeling in a Fashion Show.
Virginia was calm and composed on the red carpet. She felt, "supported by staff and the whole gang," throughout the dress rehearsals and the actual show. When Virginia exited the red carpet after her first runway walk, she cried, "these are tears of joy. I never thought I would ever be in a fashion show. The cheering and clapping for me made me feel so proud. This fashion show was very, very good."