The moment for JESPY is now. In July 2023, philanthropists Toby and Leon Cooperman presented an extraordinary challenge to the JESPY Community. The Cooperman Family offered a challenge grant of $13.25 Million – a transformational gift that will impact generations of JESPY clients. With excitement and urgency to unlock the Cooperman match, JESPY seeks philanthropic gifts to raise an additional $13.25 Million dedicated to the Go Big for JESPY campaign. Read the full press release HERE.
With your help, we will meet the Cooperman challenge and ultimately reach and exceed our fundraising goal.
Go Big for JESPY means...
Taking bold steps to respond to our clients' needs.
Ensuring the continued sustainability of the organization.
Keeping our community vibrant and honoring our mission.
The JESPY Center
A consolidated building that will allow for expanded housing for clients and enhance JESPY's core services will include Vocational, Work-readiness and Education spaces, a gym and wellness center, Clinical and Behavioral Support, as well as affordably priced one-bedroom apartments and aging in place studio apartments.
The JESPY Center Lobby
The Lobby will serve as a gathering space for residents of The JESPY Center as well as other clients frequenting the building to make use of the Fitness & Wellness space and to connect with JESPY House Client Services Staff.
1 Bedroom Apartment
JESPY's residential units within The JESPY Center will include a bedroom, bathroom, and open concept kitchen, dining, and living room area.
Aging in Place Studio
The JESPY Center will include studio apartments that will surround a common kitchen, dining, and living room for older adult clients to live comfortably, safely, and in community with peers.
The Hub
The Hub will expand opportunities for young adults and provide for more young adult clients to live independently. To be located steps from Judi House, JESPY's Recreational & Wellness Center, The Hub will include residential units, a Library and Technology Room, Classrooms, a Training Kitchen, and Engagement & Enrichment Areas.
Training Kitchen to Practice Safe Cooking
The Training Kitchen at The Hub will be the ideal place for young adults to safely learn and become comfortable with meal preparation on their own as part of their learning to live independently.
Young Adult Living
Residential spaces inside The Hub for young people in transition from living with family members to independent living will have a jack-and-jill layout of private bedrooms connected to a shared bathroom.
At the heart of JESPY House is independence. Nestled in South Orange, New Jersey, JESPY was founded 45 years ago by a group of parents dedicated to ensuring that adults with Intellectual and Developmental Disabilities, had a place to live, learn, grow, and experience a sense of personal freedom and equality like other young adults. Today, this mission, is more important than ever.
With decades of accomplishments, JESPY now looks to the future. All of our programs are highly sought after. Day Program clients long to live in their own apartments. Older clients, needing additional supports and facing escalating rents, worry that they will have to leave JESPY.
JESPY has received increased demands for our programs and services, both locally and nationally. We must continue to meet the current and future needs of our clients and keep up with best practices and trends in our field.
JESPY clients have varying needs at different life stages. Our clients fall into three main categories: "young adult" (18 to 25 years), "middle adult" (26 to 50), and "older adult" (51 to 75+).
JESPY clients participate in hundreds of programs that respond to their evolving interests, needs, and life stages. Our highly-skilled and dedicated staff combine their expertise with their knowledge of clients to develop customized programming. JESPY's staff training and high staff retention rate help us provide continuity for our clients.
Clients develop their own personal relationships and sense of community. They build long-lasting friendships, and some clients marry.
Click on the images below to read about how JESPY House has changed client lives by advancing independence.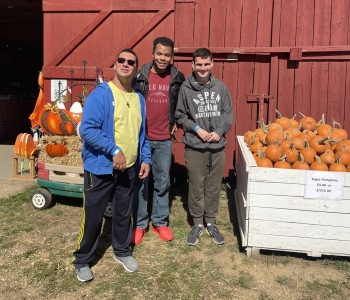 Together for Independence
Developing Confidence
From First to Forever
Life on Their Own Terms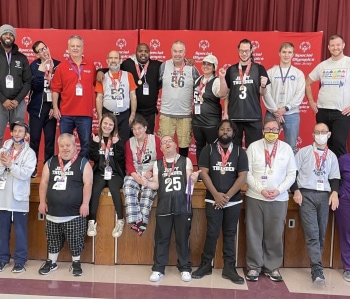 Discovering Your Potential
Exploring New Passions
Go Big has evolved from wishful and hopeful thinking to a new day for JESPY's clients. The moment we break ground, our clients, both today and in the future, will see that JESPY heard their requests.
Thank you for joining us in this effort and thank you for helping JESPY take the next steps in responding to our clients.
We stand ready to meet with you for a tour and to review the plans of the Go Big for JESPY project.
For a conversation about your Leadership Gift and Naming Opportunities, contact Amy Engel at 973-437-3770 or aengel@jespy.org.
Go Big for JESPY Committee
Judy Peskin, Honorary Chair
Stacey Davis, Co-Chair
Sophia Gershman, Co-Chair
Ahadi Bugg-Levine
Palisa Kelley
Barry Knopf
Alison Lewis
Jonathan Myers
Julia Plotnick
JESPY House: A Community Based Mission
In 1978 JESPY House was established in South Orange, New Jersey with a mission to advance independence for adults with Intellectual and Developmental Disabilities (I/DD). Started by our visionary founders who felt that adults with I/DD deserved an inclusive community where they could learn to live independently, JESPY has grown from first serving 4 clients to now serving 300 adults clients ages 18 and up.
JESPY's whole-life services promote choice, self-direction and provide for our clients in every facet of their lives.Our much-needed services include residential options, clinical and behavioral health services, engagement and enrichment activities, athletics and fitness, case management, daily life skills training, vocational services, and an aging-in-place initiative.
We continue to offer more than 100 weekly programs that sustain and build upon social and cognitive connections allowing for skill-building, the learning of new hobbies, and the chance to meet new friends.
You are the difference!
Go Big for JESPY paves the way for the next generation of JESPY clients.
For a conversation about your Leadership Gift and Naming Opportunities,
contact Amy Engel at 973-437-3770 or aengel@jespy.org.